The world of fungi is a fascinating realm, filled with unusual shapes, vibrant colors, and unique structures that capture the imagination. From the towering majesty of a field mushroom to the ethereal beauty of a glowing bioluminescent variety, fungi evoke a sense of magic and mystique. Now, imagine capturing this otherworldly allure and embodying it in a functional, artistic piece. This fusion of form and function is precisely what characterizes the mushroom bong - a smoking apparatus that marries the aesthetic charm of mushrooms with the pragmatism of a well-crafted bong.
In recent years, these mushroom-inspired bongs have rapidly gained popularity, captivating not just cannabis connoisseurs but also art enthusiasts, collectors, and lovers of all things natural. They've grown to symbolize more than just a smoking device, becoming emblematic of the crossover between art, nature, and recreation. Each piece is a testament to craftsmanship, design, and the singular charm of the fungi kingdom.
For some, the appeal of mushroom bongs lies in the allure of mycology - the study of fungi. For others, these pieces are attractive due to their unique, earthy aesthetics that break away from conventional bong designs. Regardless of the reason, there's no denying the growing popularity of these enchanting smoking apparatuses. With this surge in demand, a myriad of mushroom bongs, each more unique and intricate than the last, have sprung up in the market. Whether you're a seasoned smoker or a novice, choosing the right one from such an expansive array can be a daunting task.
In light of this, we've decided to simplify your quest. We've delved into the depths of the mushroom bong market, examining a range of options to bring you the best of the best. Today, we are going to guide you through our meticulously curated list of the top 5 mushroom bongs. Each of these bongs perfectly encapsulates the magical essence of mushrooms while providing a functional, enjoyable smoking experience.
Behold the beauty of the Spotted Egg Mushroom Perc Bong, crafted to infuse a dose of festive merriment into your smoking endeavors. Soaring at an impressive 9 inches, this bong is accentuated with a medley of color decals, elegantly embellishing its unique egg-shaped silhouette.
The crowning glory of this piece is the sizeable mushroom percolator. Not only does it offer an aesthetic spectacle, but it also guarantees pristine and fluid bowl packs. This ingenious percolator plays a crucial role in filtering the smoke, paving the way for a supremely enjoyable smoking experience. To cater to your personal taste, this bong is made available in a spectrum of enticing colors. Opt for the hue that echoes your personal style, and instill a hint of distinctiveness into your smoking regimen.
Details:
Height: 9 inches

Diameter: 4 inches

Percolator: Large Showerhead

Thickness: 5mm

14mm matching Male Joint Flower Bowl Included
Presenting the enchanting "Trippy Shroom Bong 6" Inline Perc" from Hemper, a breathtaking fusion of aesthetics and functionality that's bound to exhilarate both your visual and sensory experiences. Let yourself be enthralled by its captivating iridescent sheen, manifesting a dazzling array of gleaming hues that morph as you shift its position. This captivating visual drama is further enriched by a fiery red mushroom perched with a sprightly charm on the crown of the bong, injecting an element of whimsy into its overall construction.
Equipped with an innovative inline perc, this bong guarantees superior filtration and diffusion, yielding a purified and pleasing smoke experience. The glass's sturdy 5mm thickness contributes to its resilience, ensuring that it remains a durable ally for your indulgent smoking escapades.
Details:
Height: 6"

Diameter: 3"

Percolator: Inline Perc

Thickness: 5 mm

Iridescent Finish

14mm Male Joint Flower Bowl Included
3. 10" Glow In The Dark Mushroom Bong 
Set sail on a transcendental voyage with our enthralling Mushroom Bong! Reaching for the stars at a significant 10" height, this bong not only scores in terms of stature but also in functionality. Sporting a scientifically-engineered multi-slit downstem, it exhibits the finest craftsmanship designed to maximize your smoking experience. The bong doesn't stop there; it is coupled with a first-rate 14mm flower bowl, promising a smooth, abundant flow with every draw you take.
But what truly sets it apart is its stunning aesthetic appeal. The bong is adorned with glow-in-the-dark decals that are as delightful as they are intriguing, ensuring that this mesmerizing piece stands out even in the darkest corners of your space. The unique combination of luminescence and darkness imbues a surreal and psychedelic vibe to your smoking sessions, turning each one into an otherworldly experience in its own right.
Details:
Height: 10''

Joint: 18mm/14mm Reduced Downstem

Perc: Multi-Slitted Smoke Diffuser

Glow In The Dark

High Heat Retention

Premium Quality

Premium 14mm Male Flower Bowl Included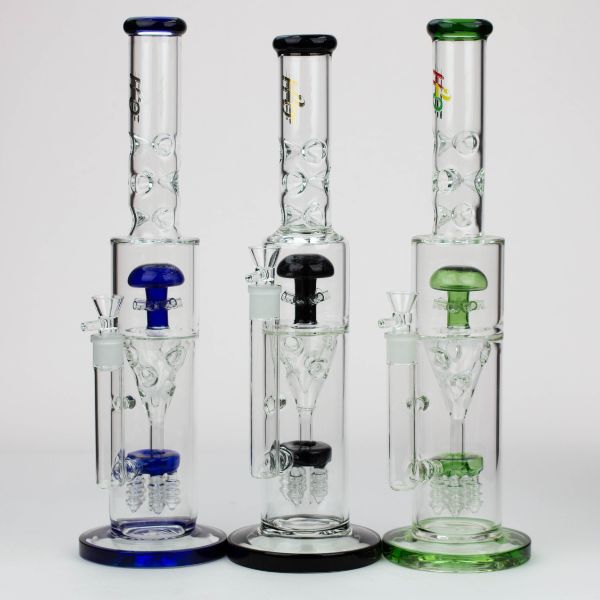 Made from top-tier borosilicate glass, renowned for its superior durability and resistance to thermal shock, this stately bong commands an impressive height of 17". Its solid structure is accentuated by a tube thickness of 5mm, adding an extra layer of strength and longevity to this magnificent piece.
In the heart of its design lies the innovative funnel diffuser. This marvel of engineering ensures your smoke is cooled and dispersed evenly, enhancing your overall experience. The spectacle doesn't end here. An artfully crafted mushroom diffuser adorns the piece, adding an extra touch of refinement and beauty while further purifying your smoke. The bong also boasts a 6-pinched ice catcher. This ingenious feature not only cools your smoke but also filters it, making each draw smoother and more enjoyable. 
Details:
Quality Borosilicate Glass

17" Height

Tube Thickness: 5 mm

Funnel Diffuser

Mushroom Diffuser

6 Pinched Ice Catcher

Thick Bowl  for 18 mm Female Joint

Stemless
5. Painted Mushroom Straight Tube Rig
Immerse yourself in an ethereal smoking experience with our captivating Glow In The Dark Mini Bongs, adorned with a hand-painted mushroom design. The mesmerizing, luminescent pattern, crafted with phosphorescent materials, promises to redefine your smoking sessions. As night falls, the mini bong emits a hypnotic glow, adding an element of surprise and delight every time you retrieve it from a dark drawer.
The sleek, straight tube bong boasts a fiery red mouthpiece, seamlessly fused to a robust round base, ensuring stability and durability. Each edge of the mouthpiece is meticulously polished, promising an agreeable feel against your lips. Further enhancing your experience is the streamlined percolator, offering superior filtration for a smoother and cooler smoke.
Details:
Hand-painted Glow in the Dark Design

Straight Tube with Red Mouthpiece

Carefully Polished Edges

Streamlined Percolator

Versatile Ice Pinches
6. Pulsar Mushroom Perc Bong
Straight from the pages of a magical fairy tale, we present the enchanting Mushroom Perc Bong, a sublime piece that's set to be the shining star of any smoker's collection. Painstakingly crafted from top-tier borosilicate glass, known for its exceptional durability and resistance to thermal shock, this fascinating pipe ascends to a majestic 9.75 inches in height. Its impressive stature is not just a visual treat but also ensures a full, smooth draw for a superior smoking experience.
The highlight of this beguiling bong is undoubtedly its captivating mushroom design. A playful spotted mushroom delicately adorns the showerhead perc, its whimsical presence breathing a life of charm into the otherwise elegant structure. The mushroom motif is not just aesthetically pleasing but also serves a purpose - the showerhead perc beneath it is designed to diffuse the smoke evenly, delivering a smoother and cooler hit with every draw.
Details:
9.75 inches (24.765cm) Tall

Borosilicate Glass Bong

Fixed Showerhead Percolator w/ Mushroom Accent

Mushroom Design

Includes Matching 14mm Male Bowl Slide
7. Water Pipe with Mushroom Mouthpiece and Perc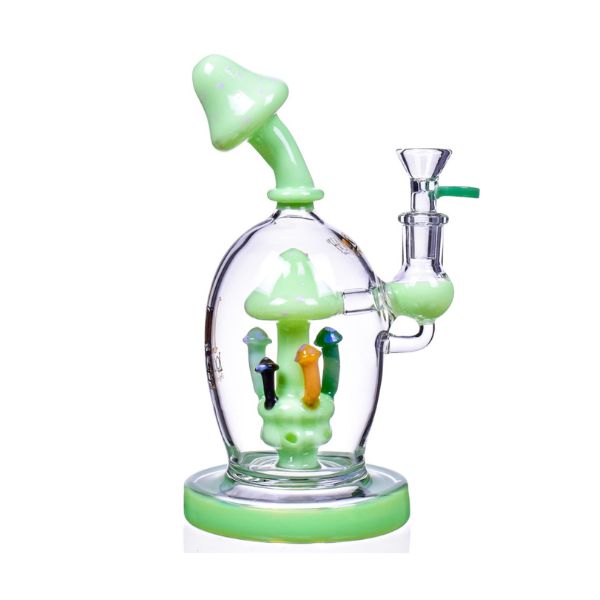 Endearingly christened The Toadstool, in homage to its charming mushroom motif, this piece is a testament to Lookah Glass's increasing popularity in the realm of whimsical dab rigs. Crafting a wax rig that harmoniously combines adventurous themes with a functional design and superior construction quality is no easy feat. Yet, the Crazy Mushrooms mini dab rig achieves just that.
Bearing the signature robust foundation inherent to all Lookah Glass creations, this mini dab rig exemplifies exceptional quality. Its main chamber, designed in an egg shape, resembles a crystal orb or a glass vessel teeming with petite mushrooms thriving in their blissful habitat. Once ignited, these mushroom figures seem to burst forth, spewing a cloud of intoxicating spores that promise to transport you on a delightful smoke-filled journey.
Details:
Height: 9"

Base Diameter: 4.25"

Joint Size: 14mm

14mm Male Handle Dry Herb Bowl Included

Color Accents 

Mini Mushrooms in The Water Chamber

Showerhead Percolator for Best Filtration

Made of Premium Borosilicate Glass
The Last Word
Each of these mushroom bongs is an example of intricate craftsmanship, merging the charm of mycology with the functionality of a smoking apparatus. So, if you're looking to add a touch of earthly allure to your collection, these mushroom bongs could be the perfect pick. Remember, as with all smoking devices, clean and maintain your bong regularly for optimal performance and longevity. Happy puffing!
Disclaimer: The information presented in this article is for educational and entertainment purposes only. Always abide by the laws in your area.