For cannabis enthusiasts who are always on the go, portable bongs are a game-changer. These compact and easy-to-use smoking devices provide the convenience of on-the-go cannabis consumption without sacrificing the quality and effectiveness of a traditional bong. With a plethora of options available, it can be challenging to decide which portable bong is right for you. Should you opt for a silicone one for durability or a glass one for flavor? From affordability to design and performance, we've thoroughly researched and compiled a list of the top 10 portable bongs that will elevate your smoking experience, no matter where you are. Whether you're hiking, camping, or simply taking a stroll, these bongs are sure to deliver smooth, potent hits on-the-fly. So, without further ado, let's dive into the world of portable bongs and find the one that suits your smoking needs.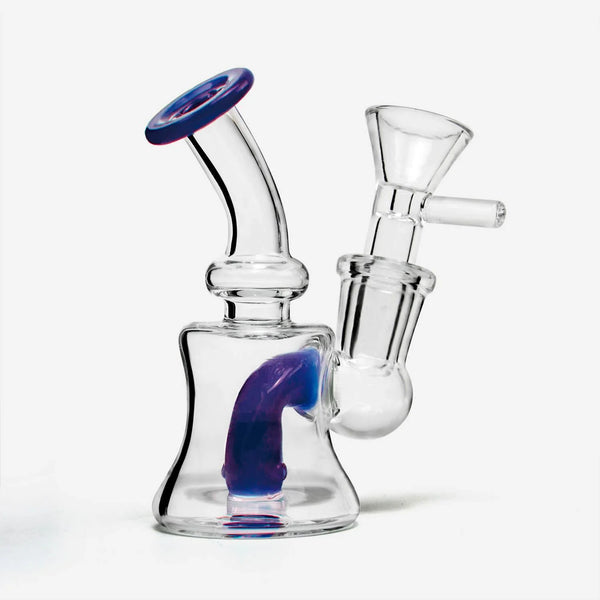 If you have been searching for an ultimate piece of mini bongs, this Mini Dab Rig 4″ is a small and compact portable bong ideal for you to take on the go. Standing 4 inches tall and made from borosilicate glass, this bong is durable and practical. It also has a 14mm connection and comes in a beautiful blue color, making it perfect for those who want a bong that is both functional and beautiful. The Mini Dab Rig 4″ is perfect for those who want a great smoking experience without taking up too much space.
Features:
Height: 4"

Base Width: 1.6"

Bent Neck

14mm Connection

Borosilicate Glass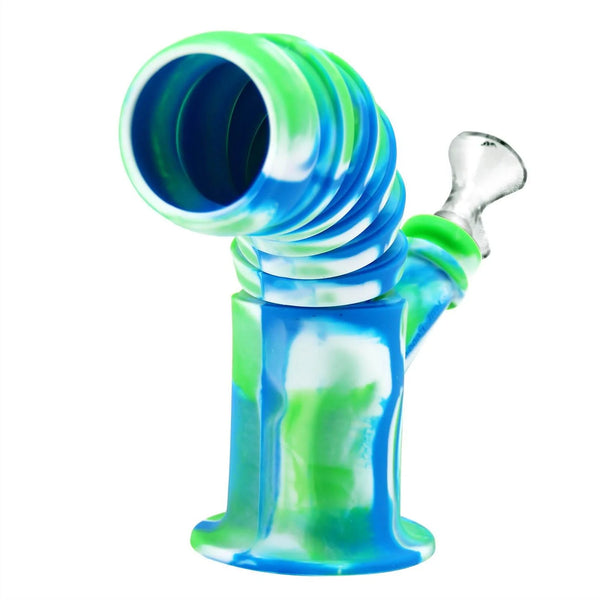 If you're tired of damaging glass bongs and changing bongs once and once again, this exciting Expandable Silicone Bong is here to lend a hand. The fully adjustable silicone bong is completely flexible and compresses down into a much smaller size for easy storage and transportation.
Made from superior silicone construction, it is super flexible, durable, strong, and super easy to clean. The collapsible main stem of the out-of-the-world bong makes it a must-have for people that enjoy taking their favorite bong with them no matter where they're going. Are you daring enough to rise to the challenge?
Features:
High-Quality Expandable Silicone Case

Food-Grade material

Perfect Gift

Portable To Carry

A 14mm Glass Bowl Included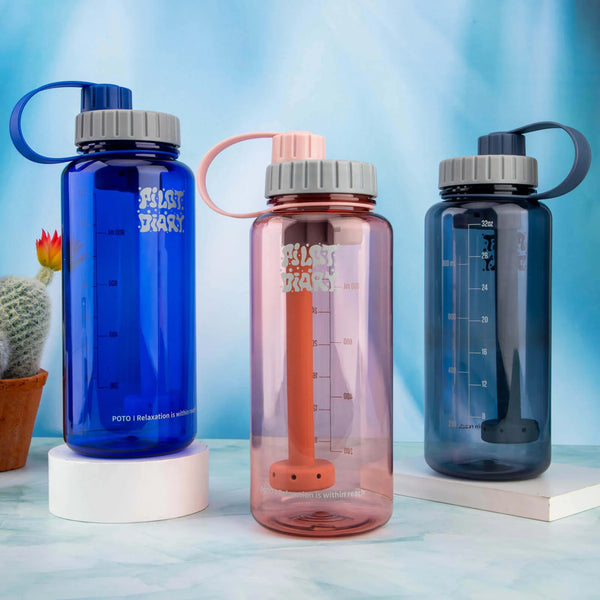 Embrace the convenience and power provided by The POTO Water Bottle Bong, which is perfect for those who want to enjoy their herbs or concentrates in a discreet way. The bottle bong resembles a Nalgene bottle, complete with a water level indicator on the side and optimal functionality when filled with 400ml of water. After unscrewing the cap, a little porcelain bowl inside the lid can be used to store your dry herbs. As you inhale, a showerhead percolator with many pores provides sophisticated water filtering! If you want to travel with something unobtrusive, the POTO Water Bottle Bong is the way to go. Bring your favorite dried herbs, and you're ready to go!
Features:
Height 9"

Length 3.5"

Showerhead Perc

Easy To Clean

Silicone Mouthpiece & Stem

Hidden Bowl Storage

The POTO Adapter Fit For Any Water Bottle With A 2.5" Cap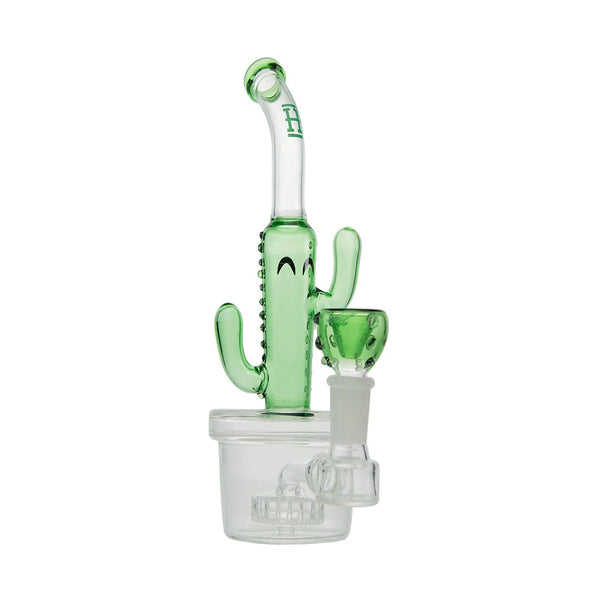 Unleash your cute side with the HEMPER Cactus Bong,  a stylish and unique portable bong that is perfect for those who want a bong that is both functional and beautiful. This hand-blown cactus figurine comes with a solid planter-pot base and an oil-catcher, making it ideal for flower bowls or a fully working e-nail system. It also comes with a showerhead perc and a 14mm beveled green flower bowl, making it perfect for those who want a great smoking experience. The HEMPER Cactus Jack Bong is a must-have for those who want to stand out from the crowd with their smoking accessories.
Features:
7" Inches Tall

Green Borosilicate Glass

Showerhead Perc

14mm Beveled Green Flower Bowl
A Matching Flower Bowl Included
As a real beauty, the Lava Lamp Silicone Water Pipe is a unique and nostalgic bong that is perfect for those who want to add some color to their smoking experience. The body is made of borosilicate glass and is encased in a nearly unbreakable silicone shell. The combination of food-grade silicone and high-quality glass makes this bong a sturdy piece that can withstand a beating. However, the good news does not end there. The inbuilt percolator on the lava lamp bong maximizes the filtering and cooling effect of your bong water. There will be plenty of entertaining bubbles and big pulls of highly filtered, tasty smoke.
This lava lamp bong is a wonderful eye-catcher for your setup because to the vibrant hues. If you like retro style and collect old goods, this cool lava light bong will satisfy your craving.
Features:
Borosilicate Glass

Food-Grade Silicone

Lava Lamp Shape

Nostalgic Style

Inline Percolator

Vivid Colors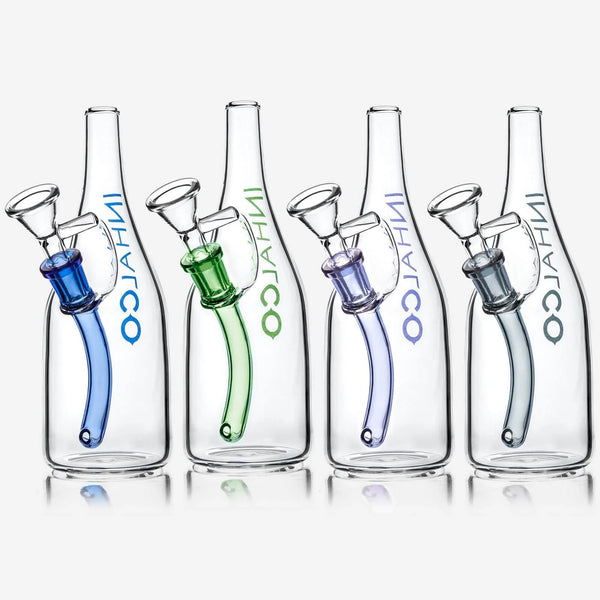 Take your good times with you everywhere you go with this Water Bottle Bong! This glass water bong, shaped like a sake bottle, allows you to fill water for filtration conveniently and is sure to become one of your favorite daily pieces. The smoke or vapor is drawn via the fixed downstem, filtered by a pinhole percolator, and then delivered to your lips for cooler and smoother hits. It has a 10mm female joint and comes with a matching bong bowl. This small-sized dab rig stands 6 inches tall and is ideal for outdoor use. Raise the bong and toast with your mates!
Features:
Height: 6 Inches

Joint: 10 mm Female Joint

Material: Clear Glass

Fixed Downstem

10mm Glass Bong Bowl Included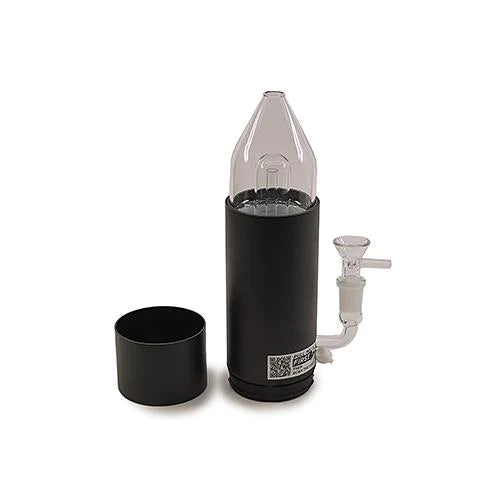 The THICKET Discreet Water Pipe is a powerful and efficient portable bong that is perfect for those who want the clearest expression of the potency, flavor, and effects of their herbs or concentrates. This bong is designed to provide the most efficient and enjoyable experience, faster and easier than ever before, with no learning curve. A thicket water pipe is a common method of smoking legal tobacco, herbs, essential oils, and concentrates. All you need to do with the built-in enclosed percolation filtration system and the camouflaged storage of the glass bowl attachments and accessories is add water and enjoy.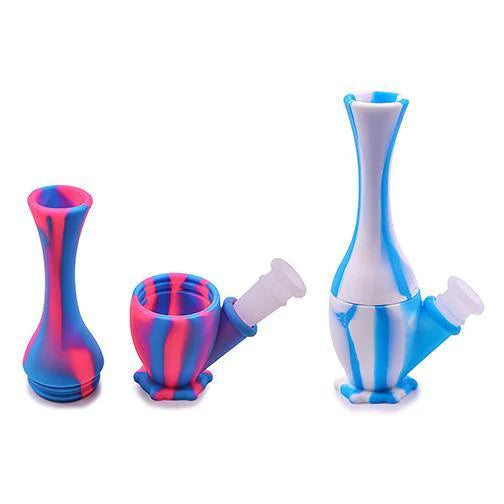 Get ready to ignite your senses with the unbelievably gorgeous Silicone Water Pipe - Skinny Vase! It is a unique and aesthetically pleasing portable bong that is perfect for those who want a bong that is both functional and beautiful. Standing at 6.5 inches tall, this bong comes with a 14mm bowl insert and is available in five different colors, with colors selected randomly. This makes the Silicone Water Pipe - Skinny Vase perfect for those who want a surprise every time they purchase one. With its sleek and slender design, this bong is perfect for those who want to take their smoking experience to the next level.
Features:
6.5"

Unique Vase Design

Detachable Parts

14mm Bowl Inserted

5 Colors For Your Choice
Final Thoughts
Any bumps in the road may be smoothed out by the company of a portable bong. With so many options available in the market, it can be challenging to choose the right product that meets your needs and fits your lifestyle. However, you can ensure a nice smoking trip by carrying one of the above 8 portable bongs friendly to your smoking ship.