If you're a fan of both cacti and smoking, then you'll definitely want to check out the world of cactus bongs. Inspired and themed by this plant with vigorous vitality, these unique smoking devices come in a variety of shapes and sizes, but all share the common theme of being inspired by the iconic desert plant. In this article, we'll be taking a look at the 10 best cactus bongs available on the market today. Whether you're a seasoned smoker or just starting out, there's sure to be a cactus bong on this list that will suit your needs and style. So, sit back, relax, and let's dive into the world of cactus bongs!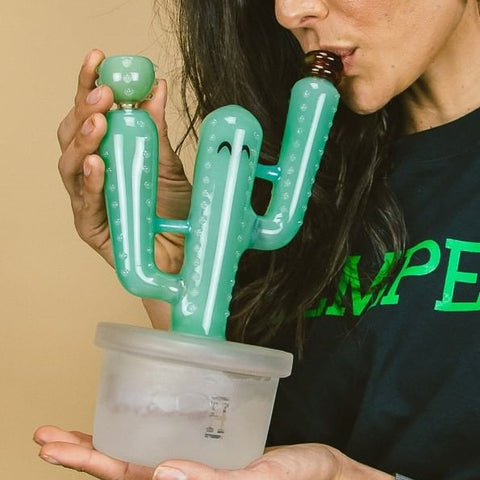 The HEMPER Cactus Jack Bong XL is the aesthetically pleasing addition to your smoking collection. This cute and quirky bong boasts a unique anthropomorphic cactus shape complete with a smiley face, making it a fun and playful option for any smoker.
Designed to resemble a potted plant, standing at 10 inches tall, the wide plant pot base not only adds to the bong's aesthetic appeal, but also ensures that it stays upright and stable during use. The accented mouthpiece provides a comfortable touch, making it easy to take smooth hits.
The Flower Bowl included is an added convenience that allows you to start using your bong right away. With a showerhead perc, this bong filters your smoke for a clean and smooth hit, enhancing your smoking experience. 
Features:
Accented Mouthpiece

Flower bowl included

Showerhead Perc

10" Inches Tall
7"  Cactus Potted Plant Bong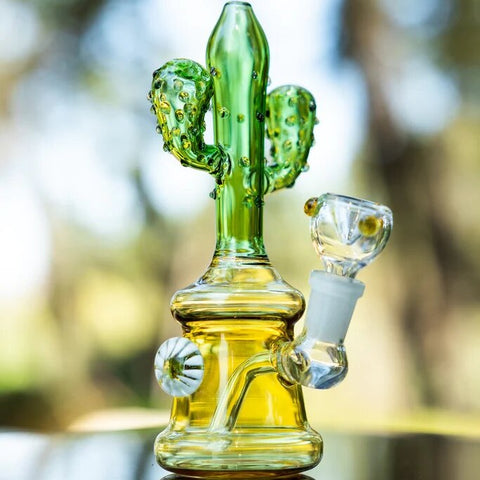 Bring a touch of the desert to your smoking experience with this 7" Cactus Potted Plant Bong. This unique glass piece features a bright yellow potted-shaped body with a cactus flower side bead, providing a secure grip and comfortable handhold. The bong neck and mouthpiece resemble cacti growing out from the potted base, giving it an authentic and fun appearance.
The bong includes a fixed downstem and a 14mm male bowl piece, making it easy to use and compatible with most smoking preferences. The compact size of this bong makes it a great choice for travel or sharing with friends. Whether you're a fan of cacti or just looking for a distinctive addition to your smoking collection, the bong is sure to impress. Its eye-catching design, sturdy construction, and practical features make it a must-have for any smoking enthusiast.
Features:
7" Cactus bong

Fixed downstem

14mm male bowl piece 

Cactus Flower Sidebead
Unparalleled Glass Cactus Flower Perc Terrarium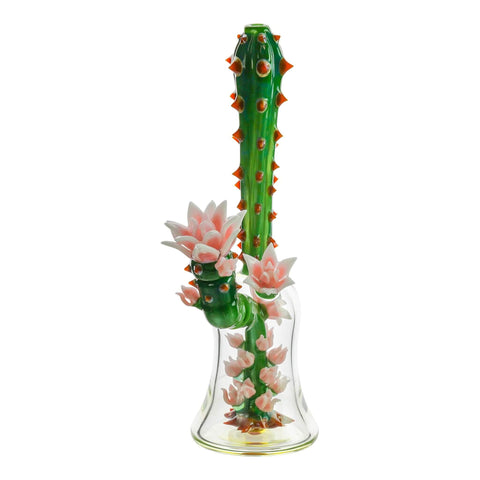 Behold, the magnificent Unparalleled Glass Cactus Flower Perc Terrarium! This exquisite masterpiece is a testament to the ingenuity and skill of its creators, handcrafted with the utmost care and precision using only the finest quality glass. Dazzling and intricate, this 9-inch bell-shaped bong is designed to resemble a cactus, complete with intricate flower clusters that bloom in a glorious display of pink. Every component of this masterpiece is adorned with these stunning cactus flowers, making it a true work of art that is sure to capture the hearts of all who lay their eyes upon it.
But this bong is not just a pretty face - it also boasts a fixed downstem with a one-hole percolator that provides just the right amount of filtration for a smooth and enjoyable smoking experience. And with its cactus flower bowl and matching slide and flower poker, using and maintaining this beauty has never been easier.
Features:
9-inch glass bong

Handcrafted with high quality glass

Fixed downstem with one-hole percolator for slight filtration

Intricately designed cactus with flower clusters

Includes slide and matching flower poker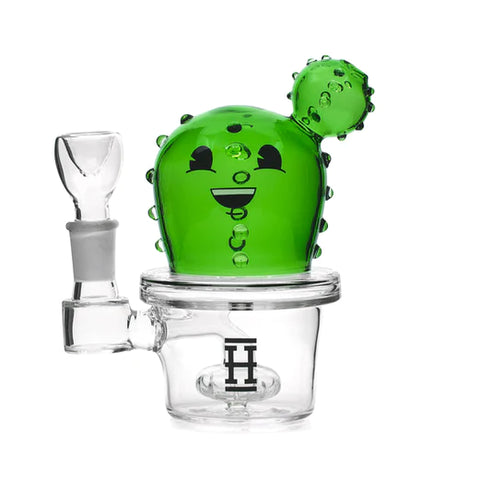 The Hemper Happy Cactus V2 Bubbler is a delightful and functional piece that will elevate your smoking experience. Standing at 6 inches tall, this bubbler features a unique and cute design that resembles an anthropomorphic cactus, Its cheerful smiley face and charming design are sure to brighten up your day.. Its barrel cactus style body is complemented by a 3-inch flower pot base, making it look like a cheerful cactus elf just sprouting out of a pot.
But don't be fooled by its adorable appearance - this bubbler is also highly functional. It features a showerhead percolator that ensures smooth and flavorful hits every time. The percolator helps to filter and cool the smoke, resulting in a more enjoyable smoking experience. This Bubbler is not just a smoking accessory, it's also a desktop pet that will keep you company as you work or relax.
Features:
6 in. Tall

3 in. Flower Pot Base

Barrel Cactus Style Body

Showerhead Percolator
Peyote Cactus Bong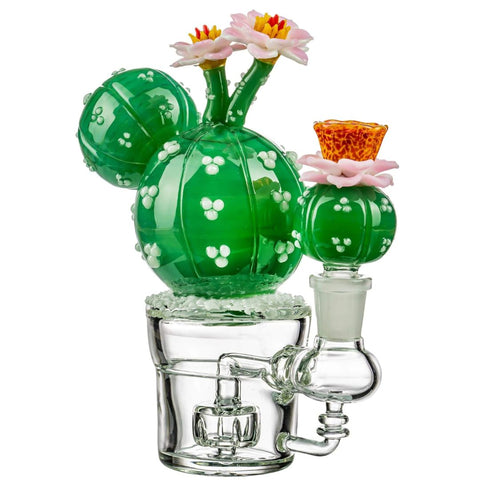 Experience the beauty and mystique of the desert with our Peyote Cactus Bong. Standing at 6 inches tall, this bong features a stunning peyote cactus style design that's sure to catch anyone's eye. If you're fascinated by the tenacity of the cactus, our Peyote Cactus Bong is the perfect addition to your collection.
Made with aquamarine green glass, it boasts a unique luster that adds to its overall charm. The peyote flowers decoration on the top of the bong is extremely exquisite, adding an extra layer of beauty to this piece. But it's not just about looks. With a showerhead perc and fixed downstem, this bong offers a smooth and efficient smoking experience.
Features:
Peyote Cactus Style

Aquamarine Glass

14 mm 90° Female Joint

Fixed Downstem

Thick Glass

Peyote flowers decoration
Tattoo Glass Cactus Dab Rig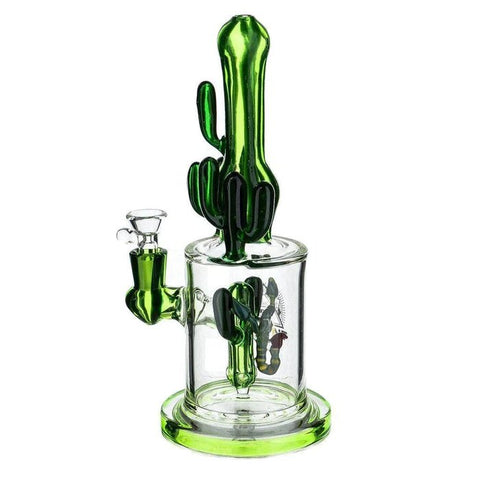 The Tattoo Glass Cactus Dab Rig is a stunning piece of art that combines functionality and style. Standing at 10 inches tall, this dab rig is the perfect size for easy handling and comfortable use; comes with a 14mm female joint that allows for easy attachment of your favorite bowl or banger. Its sturdy construction ensures durability and longevity, making it a worthwhile investment for any avid smoker.
Its vibrant green color scheme, made up of various shades of green, gives it a striking appearance that is sure to catch anyone's eye. It features a cactus perc that provides excellent filtration and diffusion, resulting in a smooth hit every time. The scorpion pendant on the perc adds a desert exotic character to the piece. 
Features:
Cactus Perc

10" Inches Tall.

Scorpion Pendant is decorated on the perc

14mm Female Joint

Includes Bowl Piece
Art of Smoke Cactus Water Pipe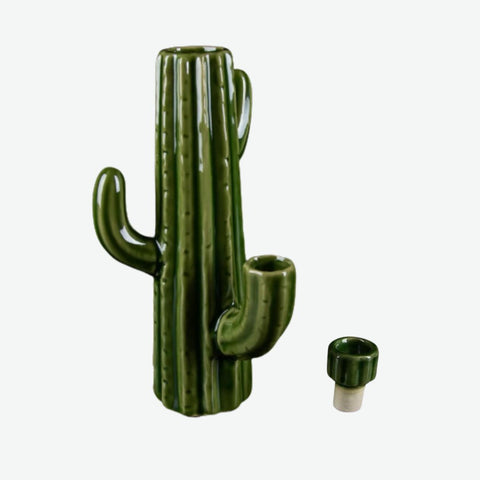 Experience the beauty of the desert with the Art of Smoke Cactus Water Pipe. This handcrafted ceramic artwork features a realistic dark green cactus design that will transport you to the dry and arid landscape of the Southwest. The simple shape and lines of the piece make it a stunning addition to any smoking collection.
The water pipe stands at 7 inches tall and boasts a deep and roomy bowl that provides a satisfying smoking experience.The left side carb hole allows for easy control of the airflow, allowing you to customize your smoking experience to your liking.
Each Art of Smoke Cactus Water Pipe is handcrafted, ensuring that each piece is a unique work of art. Indulge in the natural beauty and high-quality smoking experience provided by the Art of Smoke Cactus Water Pipe.
Features:
7 Inches

Deep and Roomy Bowl

Fits in Backpack or Bag

Handcrafted

Left Side Carb Hole
Ceramic Cactus Water Pipe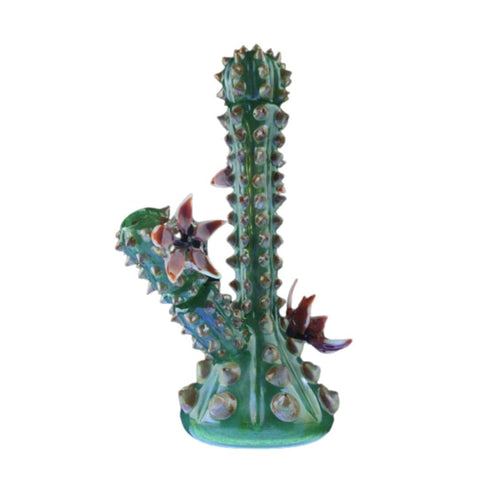 This Ceramic Cactus Water Pipe is a one-of-a-kind handcrafted piece that will elevate your smoking experience to new heights. The beaker shape of the pipe provides a stable base, making it easy to handle and use. 
The body of this pipe is fully covered in thorns, giving it a realistic cactus appearance that is both visually appealing and adds texture for a non-slip grip. The finishing touch is the coquettish cactus flower that serves as the mouthpiece. The unique color combination adds an exotic touch, making it a great conversation starter among friends. Made from high-quality ceramic, this water pipe is not only beautiful but also durable and easy to clean. It's the perfect addition to any collection or a great gift for someone who loves unique and stylish smoking accessories.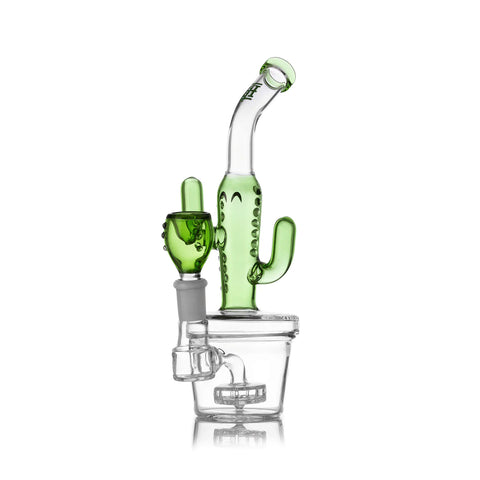 The HEMPER Cactus Jack Bong is a beautifully crafted piece of smoking equipment that will impress even the most discerning of cannabis enthusiasts. Standing at 7 inches tall, crafted from high-quality green borosilicate glass, this cactus bong is both durable and visually striking. The unique cactus design, with its intricate details, adds an element of fun to your smoking experience.
The bong features a showerhead perc, which provides a smooth and enjoyable smoking experience. The 14mm beveled green flower bowl adds an extra touch of elegance to the bong, providing a secure and convenient place to pack your favorite herbs. With its unique design, quality construction, and smooth smoking experience, this bong is sure to become a favorite in your collection.
Features:
7" Inches Tall

Green Borosilicate Glass

Showerhead Perc

14mm Beveled Green Flower Bowl
Cannonbox Cactus Bubbler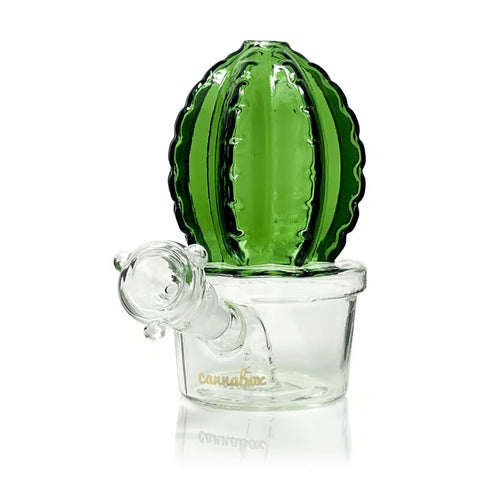 The Cannonbox Cactus Bubbler is a mini-sized bubbler that stands at 4.5 inches tall and 3 inches wide, making it the perfect size for those who want a compact and practical device. The design is simple yet stylish, with a simple color scheme and potted plant structure that will look great on any desk or table.
This bubbler is easy to use and does not require any complicated setup. Simply fill it with water, turn it on, and watch as the water bubbles up through the cactus plant structure, creating a calming and soothing atmosphere in any room. This Cactus Bubbler is perfect for those who want to add a touch of relaxation to their daily routine, and it also makes a great gift for friends and family.
Features:
4.5″ tall x 3″ wide

Fixed downstem

10mm bowl included
Bottom Line
In conclusion, cactus bongs have become a popular choice for smokers in 2023. The unique designs, sturdy construction, and easy-to-use features make them a great addition to any collection. We've covered the 10 best cactus bongs on the market, each with its own unique features and benefits. From the compact and portable options to the large and elaborate designs, there's something for everyone. These bongs not only offer functionality but also serve as a piece of art that you can proudly display in your home. We hope that this list has helped you find the perfect cactus bong to suit your needs. Happy smoking!